Mon Dieu, we're leaving for Paris in less than a week!    
Despite my shoulder injury (I think I have what is called in football parlance, a "
stinger
"), I am keenly organizing for our trip and making a list of "must do's" for both Paris and London.
Pain is a fine excuse to sit surfing the net with a heating pad on my back and several of my favorite pain killers in my belly.
Since I've lived in Paris, my "to do" list is actually shorter than for London because there's less I need to
discover
. I've already seen the historical sights, visited the museums and galleries, and taken the neighbourhood walks. What I'm most interested in this time is
shopping and eating
 (and showing David some of my favorite things).
Without further ado, here is the Paris "Must Do" list
(
all photos from Google Images
):
1.  Visit the Eiffel tower.  I've done it countless times, but oh, it's lovely.  Plus, it's romantic and maybe I'll finally get a proposal? Right...when pigs fly.
2.  Stroll through the 
Marais
- one of my favorite quarters for neat shops, people watching and great little restaurants.  Near this area is the Jewish quarter where we'll get roules au pavot (poppyseed rolls...yum!) and bagels.
3.  Visit
Galeries Lafayette
Maison and
Printemps Maison
.  These are the giant home decor shops of two of Paris's great department stores.  I haven't been to either "maison" store as I was a poor student when I lived here and spent every nickel I had on clothes.  But now, to heck with clothes - show me housewares!
When living in Paris, I adored a smaller department store called "la Samaritaine", but sadly it's closed for renovations.  So instead I'll visit the nearby
BHV
, which has a home decor section.
.
4.  French cuisine - we hope to experience some regional cuisines, like Provencal and Basque and Alsatian.  I love bouillabaisse and cassoulet and coq au vin and many of the classic french dishes, but won't be eating any escargots any time soon.
5.  Visit Village St-Paul, a warren of little antique and collectibles shops hidden in the Marais.
6.  Go for a run in Pere Lechais cemetery every morning (okay, once or twice!).  We're staying in a reputable apartment hotel facing the cemetary.  I will say hello to Oscar Wilde and Edith Piaf for you.  Oh, and Jim Morrison's buried here too!  
.
7.  Visit the Musee d'Orsay and see the Impressionists.  Been there, done that, loved it.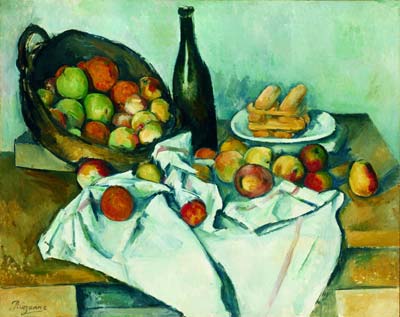 8.  Visit the Paris flea markets - can you believe I'e never been there?  The two big ones are St-Ouen and Vanves. 
9.  Eat countless
pains au chocolat
and
croissants
and
cafe cremes
.  Be still my beating heart.  To heck with french restaurants - I could eat every meal at a
boulangerie (bakery).
10.  Hunt for vintage candle sconces and etchings, two of my favorite decorating things (and both small enough to pack).
11.  Okay, there's a number eleven!  Visit Ile. St-Louis, my absolute favorite place in Paris!
For more wonderful photos of Paris, check out one of my favorite photo-bloggers, Eric, at
Paris Daily Photo.